Test Architect - A Key Role defined by Siemens (Presentation in English)
Peter Zimmerer,
Siemens AG
Test Architect - A Key Role defined by Siemens
Imagine that you build a system with 10 million lines of code. To be successful this system should have a good architecture, and for that you need good software architects – agreed. Next, to do good testing for 10 million lines of code you also need to build an appropriate test system, though not by spaghetti coding but with a well-designed, sustainable test architecture and by applying innovative software and test technologies.
But, who is responsible and in charge to make this happen? Typically neither the test manager nor the testers will do this; therefore we need to create a new role at eye level with the software/systems architects: the Test Architect is born. To implement and establish this key role we have developed a unique expert training program for Test Architects at Siemens to meet the diverse challenges of shorter time-to-market, increasing complexity, and more agility while keeping quality and other key system properties high.
This presentation introduces the new key role "Test Architect" and provides practical guidance on the needed strategies, tactics, and practices:
Why do we need a Test Architect?
What are the responsibilities and tasks of a Test Architect?
How can a Test Architect provide value and impact to the business?
Attend this presentation and do not only learn what a Test Architect is all about and why we at Siemens are driving this heavily with our unique expert training program but be able to use the corresponding strategies, tactics, and practices in your projects as a major lever to design, implement, execute, and sustain your specific approach for better testing.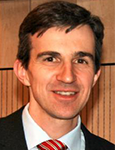 Peter Zimmerer, Siemens AG
Peter Zimmerer is a Principal Key Expert Engineer at Siemens AG, Corporate Technology, in Munich, Germany. He studied Computer Science at the University of Stuttgart, Germany and received his M.Sc. degree (Diplom-Informatiker) in 1991. He is an ISTQB® Certified Tester Full Advanced Level and member of the German Testing Board (GTB).
For more than 25 years he has been working in the field of software testing and quality engineering for object-oriented, component-based, distributed, service-oriented, and embedded software systems. At Siemens he performs consulting, coaching, and training on test management and test engineering practices including test strategies, test methods, test processes, test automation, and test tools in real-world projects and drives research and innovation in this area. He is author of several papers and articles and frequent speaker at international conferences.